Kirsch Investigator Awards Program (Medical)

Suspension of Program after June 2003 Awards Process

On January 31, 2003, the Kirsch Foundation announced the indefinite suspension of the Kirsch Investigators Award Program, effective after the selection of the 2003 Investigators.

The Board of Directors made this decision reluctantly and due to the changes in the Foundation's financial situation. The Foundation remains committed, however, to the completion of funding for current Investigators. For more detailed information about the Board's decision, read "What's New" for January 31, 2003.


Our Point of View

Steve and Michele Kirsch are dedicated to finding cures for a broad range of medical diseases. The Foundation's focus, therefore, is on finding causes, not treating symptoms. We hope that the medical science research we have previously supported through our Investigator Awards will lead to breakthroughs that will cure cancer, Type 1 diabetes, neurological disorders and/or other diseases that affect the Kirsch family and millions of others.

History of the Awards Program

Early in 2000, with the help of the renowned group of scientists who comprise our Scientific Advisory Board, the Foundation instituted the Kirsch Investigator Award Program for established scientists at renowned research institutions. Four Investigators were selected in June 2000 and again in 2001, and three Investigators were selected in 2002 and again in 2003.

Use of Awards

The Kirsch Investigator Award is specifically targeted to support the individual rather than a particular project. This is in keeping with our belief that highly-talented investigators should have the freedom to pursue a promising area of research as it evolves over a period of time. While we requested a proposal describing the nominee's general research focus, there has never been a requirement to adhere to specific project(s) described in the proposal.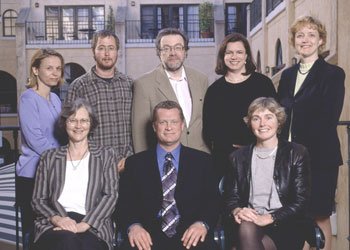 From left to right. Top row: Geraldine C. Seydoux, PhD; Ben A. Barres, MD, PhD; Alexander Varshavsky, PhD; Sarah J. Caddick, PhD, Former Director, Medical and Science Programs; Susan R. Wente, PhD. Bottom row: Elizabeth H. Blackburn, PhD; Jonathan L. Tilly, PhD; Allison J. Doupe, MD, PhD.





Back to top


home | who we are | how to apply for grants | what we've done
what we care about | why give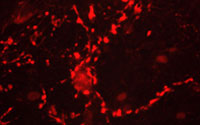 This shows immunostaining of the synaptic vesicle protein synaptotagmin in retinal ganglion cells cultured in the presence of glia.
Photo courtesy of Dr. Ben Barres, Stanford University.