Grant Recipient Success Stories


DeAnza College
Environment California Research & Policy Center
Mountain View High School Robotics Team
Natural Resources Defense Council
People for the American Way Foundation
YMCA of the Mid-Peninsula, El Camino Branch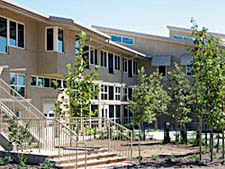 On January 28, 2004, De Anza College broke ground at the site of the Kirsch Center for Environmental Studies. The Center opened for student classes in Fall 2005 and serves as a national model to educate students, professionals, lawmakers and the public on environmental and energy policy and program issues. In addition the building showcases innovative energy and sustainable features and strategies for public building projects in California and nationwide.

The Kirsch Foundation committed the $2 million lead gift for the Center and the Morgan Family Foundation pledged $3 million to create a fully endowed chair for De Anza's Environmental Studies Program to ensure that the full potential of the Center would be realized through its educational activities and programs.

The Kirsch Center is designed for daylighting of all interior meeting, circulation and classroom spaces, with energy efficient daylight-following high-quality lighting. It is designed for natural cooling ventilation in all spaces and radiant cooling of laboratories, with windows that can be opened, and passive solar heating of the upper floor walkway to classrooms. The entire roof is covered with a photovoltaic array of about 100kW capacity, which provides cooling shading and ventilation for the roof, as well as producing enough electricity to displace over half of the building's needs for electrical energy annually, and almost all of the building's need for electricity during the peak four months of the summer, when the utilities have the greatest expense in providing for peaking power needs.
January 2004

Update: These photos show the progress of the Kirsch Center.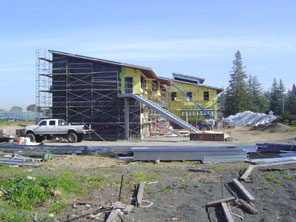 February 2005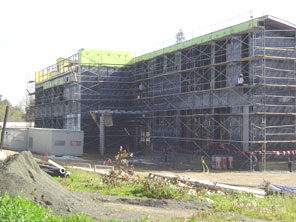 February 2005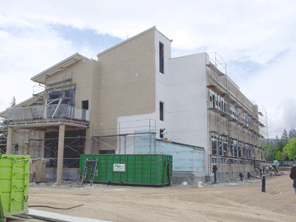 April 2005

On September 21, 2004, the Environment California Research & Policy Center (the Center) delivered 109,000 public comments to the California Governor's office calling for the strongest possible implementation of AB 1493. The then-Secretary of California Environmental Protection Agency, Terry Tamminen, accepted the public comments, which were delivered in red wagons pulled by a dozen children and their parents. Of these public comments, 34,824 were collected in the Fresno area by staff in the Center's Fresno office. Two days later, they officially submitted the cards into the public record at the California Air Resources Board Los Angeles AB 1493 hearing. Due in part to these efforts, on September 23, 2004, the California Air Resources Board adopted regulations that will ensure the strong implementation of AB 1493.
February 2005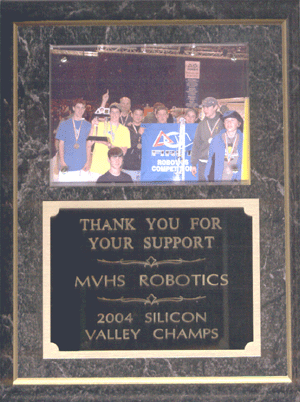 A group of 12 students from the Mountain View High School Robotics Team progressed all the way to the Nationals of the 2004 For Inspiration and Recognition of Science and Technology (FIRST) Robotics Competition held in Atlanta, Georgia, competing against some of the top teams throughout the country. Next year's team has already increased to 40 participants, and interest is still rising.
September 2004


---
Natural Resources Defense Council

China Shipping Terminal at the Port of Los Angeles
Last year NRDC successfully negotiated the final amended China Shipping settlement for the company's new terminal at the Port of Los Angeles. The final agreement secures a commitment from China Shipping to have at least 70 percent of its ships use electric power while at the terminal. In fact, the first container vessel in the world successfully plugged in at the terminal (pursuant to the settlement) on June 21, 2004.

One of the most exciting aspects of this settlement has been the enthusiasm displayed by China Shipping. While the settlement requires that 4 ships be retrofit to service the terminal, the company has now committed to retrofitting 17 ships. Further, in exchange for reducing the percentage of ships that must plug in at the terminal to 70 percent, the port committed to complete a study of the availability and feasibility of low-sulfur diesel marine fuel. This study will help the NRDC's efforts to accelerate the use of low-sulfur fuels in ocean-going vessels while in coastal waters and at berth. In addition, China Shipping will use only alternative fuel yard tractors at the terminal, most of which have already been delivered and are in use.

The agreement still creates a $50 million fund, with $10 million going to the Gateway Cities program to scrap and replace old diesel trucks with newer, cleaner trucks; $20 million allocated to other clean air measures, and $20 million going towards the creation of parks and open space in San Pedro and Wilmington. The amended agreement also requires the port to pay an additional $3.5 million for the creation of a park in San Pedro.
January 2005

Port of Long Beach Pier J Project
At the Port of Long Beach, NRDC actively pursued possible litigation last year against the Port's proposed Pier J project. After the port approved this massive expansion project based on a defective Environmental Impact Review (EIR) and implementation of negligible air quality mitigation measures, they appealed this approval to the City Council. The NRDC later briefed the issues, met with most City Council members, and made a one and a half hour presentation to the Council. Following a hearing that lasted over 5 hours (with wonderful support from the community), the Council voted to continue the hearing for 45 days to allow both sides to submit additional supporting information. The group then submitted over two inches of documents outlining its position (including 41 exhibits and NRDC's new green ports reports) and the Board of Harbor Commissioners voted to rescind its approval of the EIR and the project, and to prepare a new EIR from scratch. This was an incredible victory, and NRDC will continue to monitor the port's progress in 2005.
January 2005

---
People for the American Way Foundation

In 2004, the People For the American Way (PFAW) Foundation led a coalition of 125 national, state and local organizations in the largest mobilization to protect voting rights in the history of the country. The coalition members provided same-day relief for voters in 3,500 African American and Latino voting precincts with histories of voter disenfranchisement. An extraordinary 25,000 volunteers traveled to 17 states for Election Protection activities. PFAW Foundation also successfully registered 59,000 new voters in predominately African American communities in seven states under the leadership of African American ministers. The Mi Familia Vota was the most successful Latino voter registration and Get Out The Vote program in Florida, registering 72,000 new voters.
April 2005

The Steven and Michele Kirsch Foundation helped the El Camino YMCA meet its mission to "Build strong kids, strong families, and strong communities" through its support of the El Camino YMCA's Growth and Counseling Center. Initially, a Foundation gift built the Growth and Counseling Center in the renovated YMCA facility, completed in 2002.

The Foundation's September 2004 grant provided program support for parent education program and a series of "Teen Girls Speak Up" groups. The grant made it possible to offer four, 7-week series of Parenting or Co-Parenting classes for community members, including those requiring financial aid. From this experience they learned that summer is not an effective time of year to offer an evening class for parents of school-age children.

Evaluation forms from the parent program included many positive remarks, such as:

"I learned some concrete skills to help me manage the behavior of my children constructively. I frequently used to feel overwhelmed and ineffective in my job as a parent. Now, I have some skills that I can apply to various problems in order to get a better outcome."

"I learned how to be more respectful and positive about discipline and wonderful techniques for communicating with and understanding my children. It was great-exceeded my expectations!"


The Teen Girl Group is support for at-risk, middle-school girls referred by their principal for a variety of problems, including gang involvement. The girls came to the Y for group counseling sessions throughout the 2004-2005 school year. As a result, they have: remained friends with girls who identify with different gang colors; learned anger management skills; developed empathy for others; and set goals that include academic achievement, improved behavior, and more positive family and peer relationships.
September 2005




Read Archived Grant Recipient Success Stories and Articles



home | who we are | how to apply for grants | what we've done
what we care about | why give